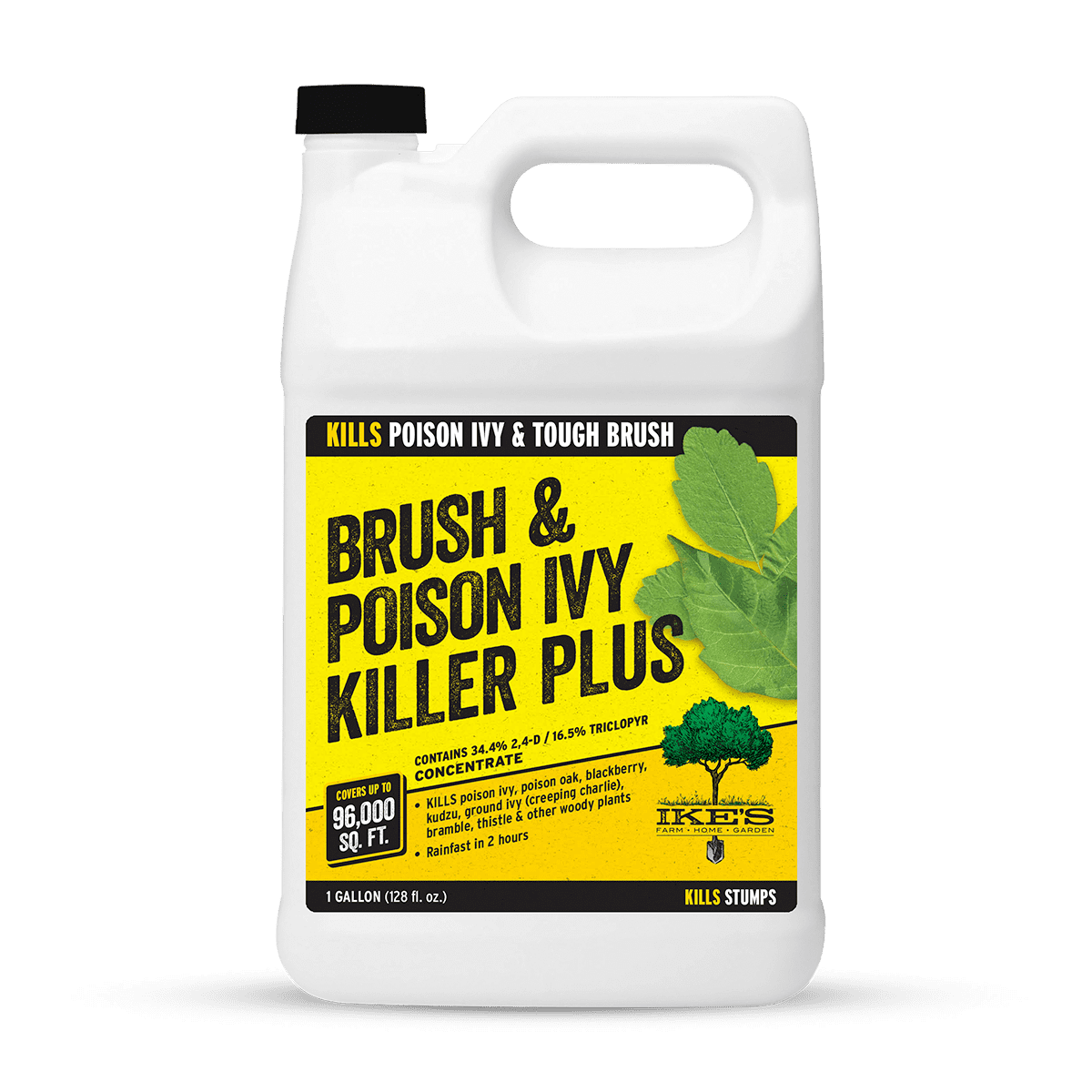 Brush & Poison Ivy Killer Plus (Coming Soon)
Weed & brush herbicide
A selective, post-emergent herbicide designed to kill brush, unwanted trees, and perennial and annual broadleaf weeds on range and pastureland. This product will kill weeds on permanent grass pastures,rangeland, conservation reserve program acres, fence rows, roadsides, non-irrigation ditch banks,industrial sites, and non-crop areas.
Kills poison ivy, poison oak, blackberry, kudzu, ground ivy (creeping charlie), bramble, thistle, and other woody plants
Kills stumps
Rainfast in 2 hours
Up to 24,000 sq ft per quart, Up to 96,000 sq ft per gallon
Coverage
1.3 fl oz per gallon per 1,000 sq ft
Mix rate
2,4-D 34.4%, Triclopyr 16.5%
Active ingredients
12 x 1 quart
4 x 1 gallon
Case pack
How To Use
Where to Use It
Lawns, Ranges, Pastureland and CRP Acres
How to Mix
To use the tip-and-measure bottle, rotate the bottle forward until liquid fills the upper compartment. After liquid has filled the top compartment, tip the bottle backward until the liquid matches the angled adjacent marks on the bottle at the intended measurement point. Once the appropriate amount of liquid is measured in the top compartment, it can be mixed directly into water in the sprayer. Brush & Poison Ivy Killer Plus mix rate is 1.3 fl oz per gallon of water, per 1,000 sq ft.
See product label for additional mix instructions specific to this product.
When to Use it
Northern US states: April–July

Southern US states: January–February, April–June, October

Other considerations:

Do not apply at wind speeds greater than 15 mph. Only apply this product if the wind direction favors on-target deposition and are not sensitive areas (including, but not limited to, residential areas, bodies of water, known habitat for non-target species, non-target crops) within 250 feet downwind.