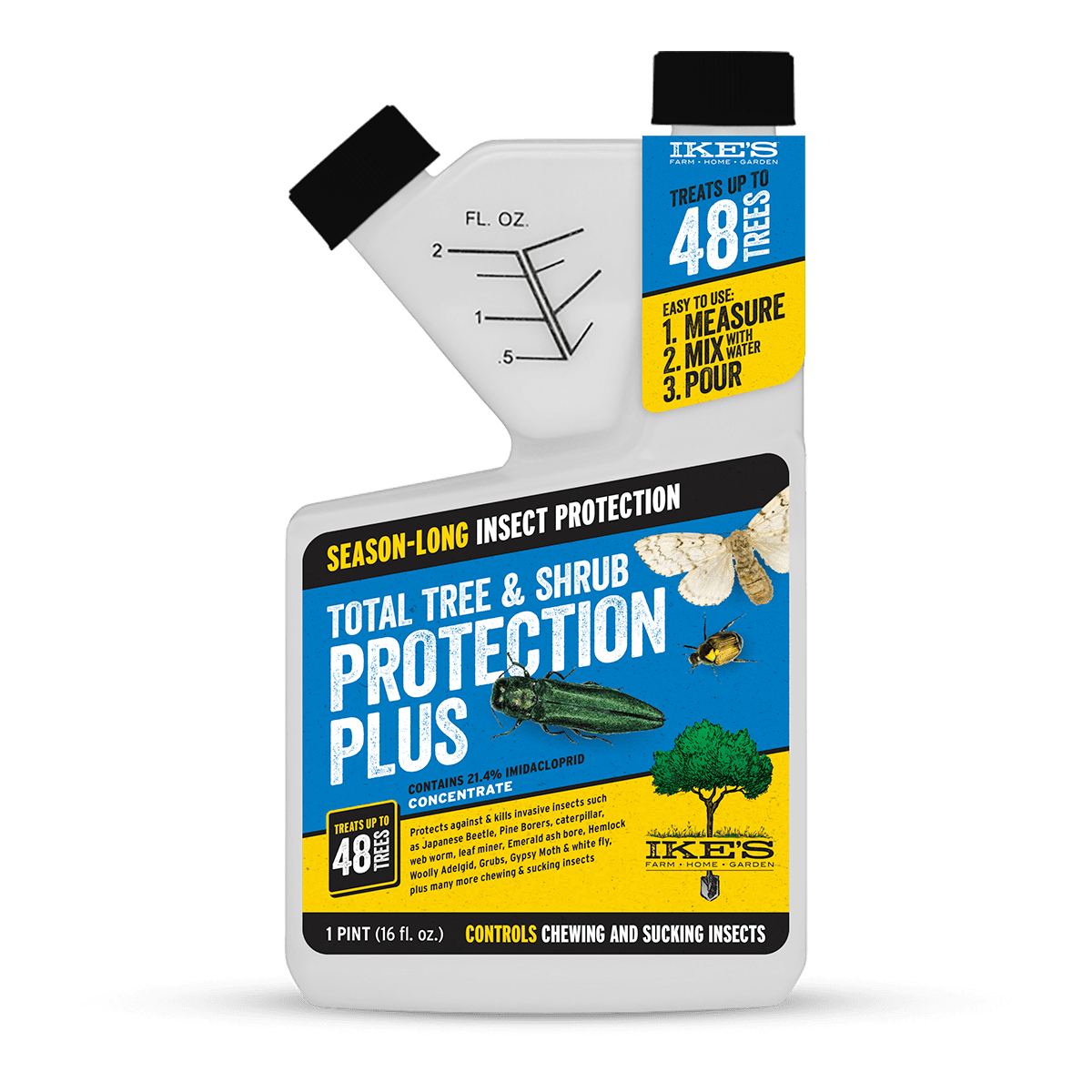 Total Tree & Shrub Protection Plus
Season-long control of chewing & sucking insects
Keep your flowers and plants beautiful and insect free. Provides both systemic and foliar control of insects and pests on your roses, flowers and landscape ornamentals. Readily available to the plant, it prevents new infestations and protects trees and shrubs from insect damage.
Protects against and kills invasive insects
0.5 tsp. per 5 gal. of water

1 pt. treats up to 48 4-in. diameter trees

1 pt. treats up to 192 1-in. diameter rose bushes
Coverage
Trees: 0.5–1 tsp. per 10 gal. of water per in. of trunk diameter

Ornamentals, flowers: 0.5 tsp. per 5 gal. per 1,000 sq. ft.
Mix rate
Imidacloprid 21.4%
Active ingredients
How To Use
Where to Use It
Flower beds, landscape ornamentals
How to Mix
To use the tip-and-measure bottle, rotate the bottle forward until liquid fills the upper compartment. After liquid has filled the top compartment, tip the bottle backward until the liquid matches the angled adjacent marks on the bottle at the intended measurement point. Once the appropriate amount of liquid is measured in the top compartment, it can be mixed directly into water in the sprayer. Total Tree & Shrub Protection Plus mix rate for trees is 0.5–1 tsp. per 10 gal. of water, per inch of trunk diameter. Total Tree & Shrub Protection Plus mix rate for ornamentals and flowers is 0.5 tsp. per 5 gal., per 1,000 sq. ft.
See product label for additional mix instructions specific to this product.
When to Use it
Northern US states: March–June, September

Southern US states: February–April, September–November

Other considerations:

For optimum control, make applications preceding or during the egg laying period of the target pest. The active ingredient in this product has enough residual activity so that applications can be made preceding the egg laying activity. Application timing can be based on historical monitoring of the site, previous records or experiences, current season adult trapping or other methods. Most favorable control will be achieved when applications are made prior to egg hatch of the target pests, followed by sufficient irrigation or rainfall to move the active ingredient through the thatch.
For Use Against
Adelgids
Annual bluegrass weevil (larvae)
Aphids (except wooly apple aphid)
Armored scales (suppression)
Asiatic garden beetle (larvae)
Billbug (larvae)
Black margined aphid
Black turfgrass ataenius (larvae)
Black vine weevil (larvae)
Chinchbug (suppression)
Cutworms (larvae) (suppression)
Eucalyptus longhorned borer
European chafer (larvae)
European crane fly (larvae)
Flatheaded borer (including bronze birch and alder borer)
Green June Beetle (larvae)
Japanese beetle (larvae)
Japanese beetle
Lace bugs
Leaf beetles (including elm and viburnum leaf beetles)
Leaf miner
Leafhoppers (including glassywinged sharpshooter)
Mealybugs
Mole crickets
Oriental beetle (larvae)
Pecan leaf phylloxera
Pecan spittlebug
Pecan stem phylloxera
Phyllophaga spp. (larvae)
Pine tip moth (larvae)
Psyllids
Royal palm bugs
San Jose scale
Sawfly (larvae)
Soft scales
Southern masked chafer (larvae)
Thrips (suppression)
White grub (larvae)
Whiteflies
Yellow pecan aphid