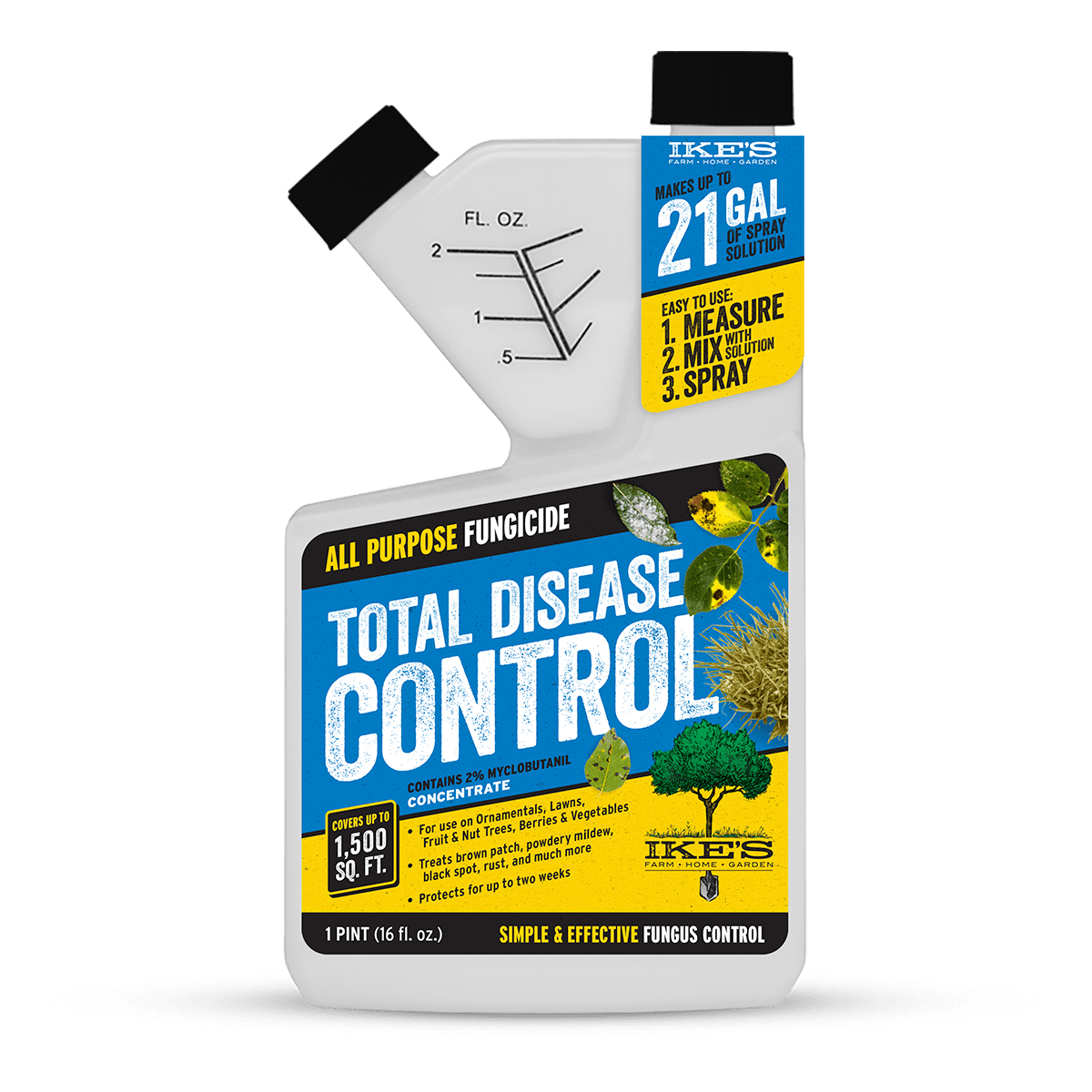 Total Disease Control
All Purpose Fungicide
A multi-purpose fungicide that can be safely applied on ornamentals, lawns, fruit trees, and vegetables to treat a large majority of major plant diseases such as brown patch, powdery mildew, black spot, and rust. Protects for up to 2 weeks.
Up to 1,500 sq. ft. per pint
Coverage
0.75 fl. oz. per gallon per 1,000 sq. ft.
Mix rate
Myclobutanil 2%
Active ingredients
How To Use
Where to Use It
Lawns, Ornamentals, Vegetables, Fruit & Nut Trees
How to Mix
To use the tip-and-measure bottle, rotate the bottle forward until liquid fills the upper compartment. After liquid has filled the top compartment, tip the bottle backward until the liquid matches the angled adjacent marks on the bottle at the intended measurement point. Once the appropriate amount of liquid is measured in the top compartment, it can be mixed directly into water in the sprayer. Total Disease Control mix rate is 0.75 fl oz per gallon of water, per 1,000 sq ft.
See product label for additional mix instructions specific to this product.
When To Use
Start treating when grass begins to turn green in the spring or when signs of diseases are first noticed.

Other considerations:

Begin applications early in the season when cloudy, wet conditions are favorable for disease development. Do not apply if temperatures are 90 °F or higher as damage to plants may occur. Make applications to a dry leaf surface early in the morning or evening when winds are calm.

To ensure that the product does not blow or wash away from the treatment area, apply this product in calm weather when rain is not predicted for the next 24 hours.